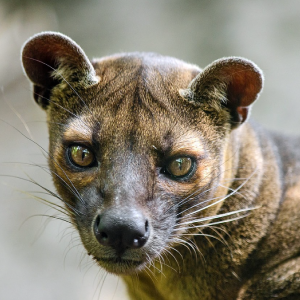 Class:

Mammalia

Order:

Carnivora

Family:

Eupleridae

Genus:

Cryptoprocta

Species:

ferox

Life span:

Up to 20 years under human care

Gestation:

3 months

Number of young at birth:

2 – 4

Age of maturity:

About 4 years

Size:

Up to 31 in. long
Tail length: 27 – 35 in. long

Weight:

Females: 11 – 15 lb
Males: 13 – 22 lb

Size at birth:

3 – 3.5 oz

Description:

Has paws with claws like a cat, a long tail like a monkey, and round ears like a weasel. Its coat is short, usually a rich brown color with a golden tinge. The fossa's tail makes up about half of the animal's length.

Habitat:
Rain forest and savanna
Range:
Madagascar
Fun Facts:
Climbing high up into trees and jump from branch to branch, the fossa can climb down the tree headfirst using its claws.

Fossas nap and hunt day or night depending on mood or circumstance.

The fossa is solitary except during the breeding season

The fossa is a carnivore and preys on small to medium sized animals from fish to birds.

The fossa is one of the top predators on the island of Madagascar.

Fossas have scent glands that release a stinky smell when the animal is irritated or frightened.