The 2022 dates are in! Artists will be announced soon.
Wednesday, July 13, 2022
Wednesday, July 27, 2022
Wednesday, August 10, 2022
Wednesday, August 24, 2022
Season Ticket Flash Sale on September 1!
At the last 2021 concert with The Flat Cats on Wednesday, September 1, we will be having a 2022 Season Ticket flash sale! 2022 Season Tickets will be $60 per person THAT NIGHT ONLY and ONLY IN PERSON (4 concerts for the price of 2!). After that night, 2022 Season Tickets will be $90 per person. Cash preferred.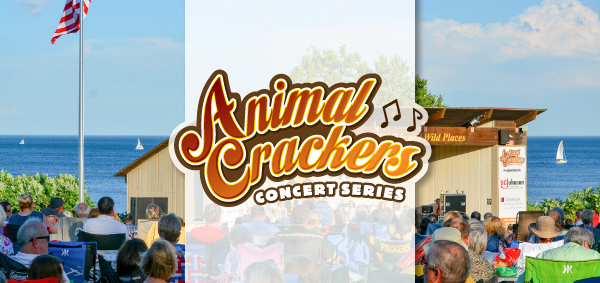 A letter from the Director
I am thrilled to be able to say that the 34th annual Animal Crackers Concert Series will take place this summer! Whew. We are so happy to welcome you back and are looking forward to an amazing season. With that said, there are some updates on dates and artists that we had to work through before we could sign contracts. Everyone is playing catch up on the "year lost" and trying to make it all work with their schedules. I am sorry to say that Walter Beasley is not touring this year, but we hope to have him out here in the next few years. Regardless, I think you will love what we were able to do for this summer, taking into consideration the artists' schedules and being respective of those not touring this summer. The schedule is below:
Animal Crackers 2021 Lineup:
Wednesday, July 21 - Cindy Bradley
Wednesday, August 4 - Chicago Tribute Anthology
Wednesday, August 18 - Adam Hawley
Wednesday, September 1 - The Flat Cats
Pre-purchased Season Tickets
In regards to those of you who purchased season tickets at the last concert in 2019 or online after that for holiday gifts or for yourself, those TICKETS ARE GOOD FOR 2021! So, here is how you will use your season tickets:


For the concert on July 21, you will use the orange/yellow colored ticket that says "Wednesday, July 22, 2020"

For the concert on August 4, you will use the maroon/red colored ticket that says "Wednesday, August 5, 2020"

For the concert on August 18, you will use the purple colored ticket that says "Wednesday, August 19, 2020"
For the concert on September 1, you will use the green colored ticket that says "Wednesday, July 8, 2020"
Pre-purchased Individual Tickets
For those of you who bought individual tickets for a particular concert please see above and verify when that artist is now playing. We will exchange your single ticket for the correct date up to 1 week prior to concert date. if you have any questions, email info@racinezoo.org.
See you at the Zoo!
Beth Heidorn
---
Individual Tickets (Buy early! Limited stock)
$30 per person online
$35 per person at the gate
Click on an artist below to learn more or buy tickets!
Wednesday, September 1 - The Flat Cats
Ticket Pickup
Tickets will be available for pickup at the Zoo Administration Office (200 Goold Street, Racine WI, 53402) before the concert until 12PM. After 12PM the day of the concert, tickets will be held at "Will Call" at Zoo entrance (2131 N. Main Street, Racine, WI 53402). Please bring your ID.
Concert Times
Doors open: 5:30PM
Shows begin: 7PM
Please Note
Concerts held rain or shine.​
Online ticket sales will conclude at 12PM the day of the concert.
There is no discount on individual tickets.
Only purchase tickets through the Racine Zoo website or in person at the Zoo. All other places tickets may be sold are a scam.
ALL PURCHASES ARE NON-REFUNDABLE
See our current COVID-19 policy. Sanitation stations will be located nearby for your safety.
---
Businesses/Organizations Welcome! Sign up for a Business Booth for a great promotional opportunity at any of the concerts!
Interested in becoming a sponsor? Email Beth Heidorn at bheidorn@racinezoo.org or call 262.636.9291 for more information.
---
General Information & More
• Be sure to bring everything you need to the concert. Once on campus, you are unable to leave and return without purchasing another ticket. Picnic dinners are allowed, bag chairs, blankets, and small folding tables. No open fires or grills are allowed on concert day. Food and beverages may be purchased at the event in the Crackers Café. A portion of all purchases is donated to the Zoo.
• The municipal ordinance states that persons are not allowed to carry in any alcoholic beverages. All bags or coolers brought into the Zoo WILL BE SEARCHED and alcoholic beverages will be held until the end of the concert. Beverages, alcoholic and non-alcoholic, are available for purchase on concert grounds. Proof of age for alcoholic beverage purchases is required. Proceeds from the sale of beverages at concerts help support the Racine Zoo.
• Persons are encouraged to clean up their area when leaving. Litter barrels and recycling bins are located throughout the grounds.
• Children 15 years of age and younger must be accompanied by an adult at all times and kept under supervision. Children two and younger are admitted free of charge.
• Courtesy of the performances is required. We ask that you talk quietly if you must talk at all. Volunteers are instructed to escort any disruptive concert-goer off the grounds. We want everyone to enjoy the concerts and ask for your help and consideration toward others and the performers.
• Gates open at 5:30PM. Concerts begin at 7PM and end at approximately 9PM. The Zoo grounds close 30 minutes after the concert.
• Beverages and food are available for purchase by ticket only. Tickets are available for sale at the Crackers Café in increments of $1.
• No reserved seating is available. We ask concert-goers to be considerate of others when placing chairs and blankets.
• No photography or videotaping is permitted at concerts.
• Concerts are rain or shine. Umbrellas are permitted, but raincoats are encouraged as an alternative to umbrellas for concert-goer courtesy.
**Note** Assisted transportation will not be available. However, there are electric scooters for rent while supplies last (for $25). Thank you and we apologize for any inconvenience.