SKU: ZD2021
SAVE THE DATE! Saturday, September 10, 2022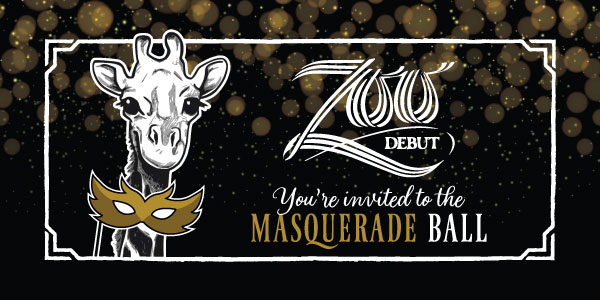 Saturday, September 11, 2021 | 5PM – 11PM
About the Night
Join us for Racine's premier black-tie event, Zoo Debut, a themed charity fundraising gala. Indulge in an open bar, small plates featuring local restaurants, live music by The Eddie Butts Band, and live and silent auctions. This dazzling event will be a night to remember! Funds raised will benefit veterinary and essential daily animal care, education programs, conservation efforts, and so much more. Your support is the key to our continued success of providing positive wildlife experiences for guests of all ages.
---
Attire
Attire is black-tie, fashionably masquerade, or animal inspired.
---
Auctions
Auctions will be held online through the GiveSmart website. See the sidebar to participate or for FAQs. Anyone 18+ can participate in the auctions even if you don't attend the event! You must be 21 years and older to bid on any alcohol-related auction packages.
Silent Auction:
Opens Tuesday, September 7, 2021 at 4PM (CDT)
Closes Saturday, September 11, 2021 at 9PM (CDT)
Live Auction:
Starts Saturday, September 11 at 7PM (CDT)
Ends Saturday, September 11 at 8PM (CDT)
If you would like to participate in the Live Auction but are unable to attend Zoo Debut, please email Marketing Manager, Kristen Humphrey, at kristen@racinezoo.org with the item number(s) of the Live Auction item(s) you would like to bid on along with your maximum bid(s) NO LATER THAN FRIDAY, SEPT. 10 at 3PM. We will then bid for you during the event on Sept. 11. You will be notified after the event if you won.
---
Tickets:
$150 per person through Monday, August 23, 2021
$175 per person starting Tuesday, August 24, 2021
MUST RSVP by Tuesday, August 31, 2021. Scroll down to save your spot!
---
ALL PURCHASES ARE NON-REFUNDABLE​
Only purchase tickets through the Racine Zoo website or in person at the Zoo. All other places tickets may be sold are a scam.
There are no physical tickets for this event. Your name will be put on a list at the entrance of the event. Please bring your ID.
See our current COVID-19 policy. Sanitation stations will be located nearby for your safety.
---
Zoo Debut 2021 will be open seating (unless purchasing a table of ten). Please fill out the application below, including the first name and last name of all guests who will be attending. to make sure everyone in your party will be seated together. If you are purchasing for a business or organization, please include the name of your company along with all attendees.
If you are purchasing an entire table (Entire table: 10 people for $1,500). Please check the box, then make sure to list your full name as the first guest followed by the rest of your party's first and last names.
If you are purchasing individual tickets, please select the number of tickets from the drop-down box. List your full name as the first guest followed by the rest of your party's first and last names. There will be open seating this year without assigned tables unless a full table is purchased.
Note**If you or one of your guests require a vegetarian meal, please indicate that in "Name" text field.
Example:
3) Guest Name
John Smith / Vegetarian meal
---