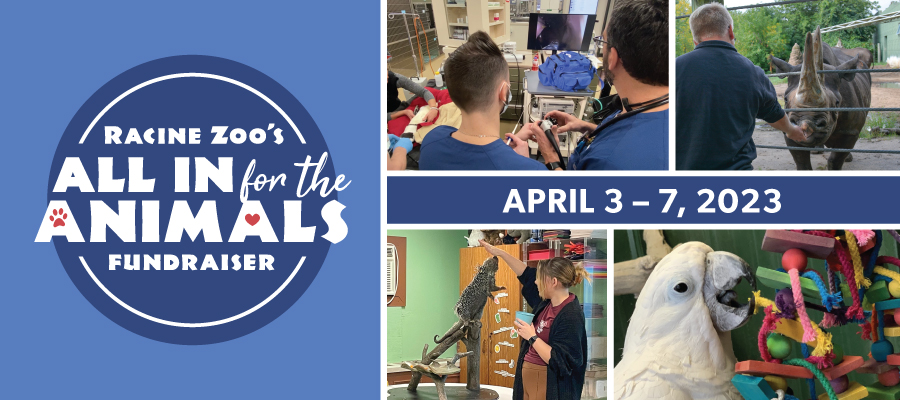 The Racine Zoo Needs You!
From Monday, April 3 to Friday, April 7, we would like to ask you to reach into your hearts and help the Racine Zoo make a difference. Our Animal Care Department provides essential daily and specialized care to over 400 animals and 75 unique species that make your trip to the Zoo so memorable. Racine Zoo is accredited by the Association of Zoos and Aquariums, which means we are held to the highest standards of animal care. For a nonprofit like Racine Zoo, it is a steep price tag to maintain this level of care.
---
Specialized Care Highlights

What did Stevie the African Penguin Swallow?
Stevie the African penguin had a history of upset stomachs. Keepers and vet staff at the Racine Zoo performed an x-ray to see if they could find out what was going on, and discovered a piece of nesting material in his stomach! While it is common for penguins to move rocks and other inanimate objects around in their beaks, this one ended up being swallowed. We didn't quite have the right tools on site to remove the oddly-shaped object, so we made Stevie an appointment with a specialist at VCA Milwaukee Emergency Center for Animals. After his endoscopic procedure, Stevie is back to his energetic, healthy self!

Big Feet Means Special Foot Care for Timu and Kianga the Rhinos
Eastern black rhinoceroses Timu and Kianga each weigh in at almost 3,000 pounds, so their big feet have equally big jobs to do to support them! Keepers at the Racine Zoo practice special voluntary foot care with the rhinos (think your regular mani-pedi) where they can apply products specifically designed for foot health. Both rhinos also have their own mulch pit, providing a softer cushion for their foot pads, and custom ergonomic flooring throughout their barns. Many careful considerations are taken to maintain all of that pep in their step!

Little Stella the Porcupine Making Big Steps in Training
Stella, the prehensile-tailed porcupine, is one of the newest ambassador animals at the Racine Zoo. As an ambassador animal, she goes out on programs to meet new people and teach them all about conservation. Getting a little porcupine ready to go out into the world requires a lot of training and some new props to keep her safe and happy. Fortunately, Stella has trainers that have put in a lot of time, and she also has her very own table and 3D printed tree stand that she loves to hang out on. Thanks to these efforts, the porcupine with the cutest nose has finally started doing programs!

Keeping Miranda the Cockatoo in Tip-Top Shape
Miranda the umbrella cockatoo gets lots of attention from guests in the Racine Zoo's Discovery Center, but requires equally as much attention from his keepers to ensure he's in tip-top shape. This includes participating in voluntary nail trims and beak maintenance with his care staff! He also receives a hefty amount of enrichment daily, which not only keeps his body healthy by naturally shaping his nails and beak, but also stimulates his mind. He even has his own tablet, and loves to sing along to musicals!
---
Show your support!
Donors play a crucial role to keep our 100-year-old zoo running. Through the generous support of the community, Racine Zoo can continue to provide our beloved animals with the care they need. Our mission is to educate and inspire our guests and the community while providing an affordable wildlife experience that improves the bond between people and nature for years to come.
Our goal for All In For The Animals is to raise much needed funds for the Zoo. Will you help us make this possible? Show your love and support through a donation. A gift of any size makes a difference.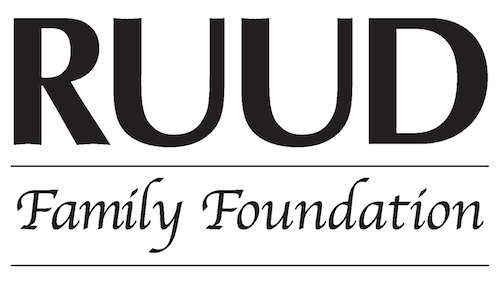 Because of our sponsor, this year your tax-deductible donation will have TWICE the impact! Every donated dollar up to $5,000 will be matched by RUUD Family Foundation. Thank you to this wonderful Zoo patron!
Donate online below or mail your donation check to the Racine Zoo at 200 Goold Street, Racine, WI 53402. All donations are tax deductible in accordance with the IRS Tax Code.

A sincerest thank you for your consideration from all the animals and staff at the Racine Zoo. Your incredible kindness will go a long way.
---
How far will your donation go?
In addition to specialized veterinary care, our animals need to eat! Our keepers craft specific diets for each animal to keep them healthy and strong. However, since the animals require food every day just like you, the cost adds up quickly!