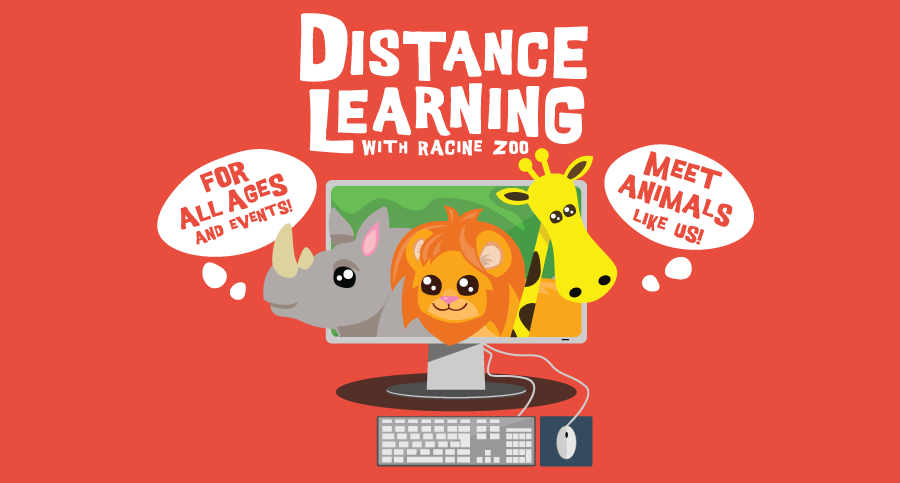 Experience the Zoo and interact with animals like never before. Through Zoom, an online live video chat, the Zoo offers educational animal programs with a twist. Meet animals that call the Zoo home and ask questions, speaking directly with an experienced Conservation Education Specialist.

These online live video programs are for all ages, and are great for anyone looking to enhance their knowledge of animals. Families, classes, assisted living communities, homeschool groups, and much more can benefit from this experience.

There are lots of fun programs to choose from, and programs can be customized to cover a specific concept, topic or vocabulary. To see a list of all the programs offered, check out our Distance Learning Information Sheet attached below. Meet animals from all over the world up close and learn what makes each animal so unique, and how they can survive, or dive into the daily routine of a Zookeeper and learn how zoos can take care of so many animals. We are sure there is a program for everyone.

We offer these programs for all attention spans with mini 20-25-minute programs and larger 40-45-minute programs. We also have animal chat programs that allow participates to learn about some of the larger animals that call the zoo home. A primate chat, bird of prey chat, big cat chat, and African safari chat are available. Each program can accomodate a maximum of 99 screens.
Distance Learning Pricing: For any size audience.
| | | |
| --- | --- | --- |
| Program Type | Length | Cost |
| Animal Chat | 20 – 25 minutes | $60 |
| Two Animal | 20 – 25 minutes | $60 |
| Four Animal | 40 – 45 minutes | $100 |
Distance Learning Booking Sheet
Distance Learning Information Sheet

Special Winter Offerings!
Furry Friends- How do you stay warm in the winter? One common way for animals to stay warm is to be covered in fur. Learn how animals use their fur differently and the importance of fur to an animal's survival in the frigid winter months.
Sleeping Through the Snow- Not all animals are visible during the winter months. Dive into how animals prepare for winter and learn about animals that hibernate.
Winter Warriors- Winter animals need to be tough to survive. Snowball into the lives of some of the toughest animals and learn about some of the special behaviors that help these animals survive.
Animal Vacation- Take a break from the cold and drive into a warm, relaxing, and tropical place. Meet animals that enjoy the warmth all your round, and discover some of the challenges these animals may face in a warm climate.

To learn more, or to schedule your Distance Learning Program, please contact the Conservation Education Department at 262-636-9580 or by email at education@racinezoo.org. Two weeks' notice is required when booking all programs.