Check out the first episode below! The rest of the episodes can be found on our YouTube channel.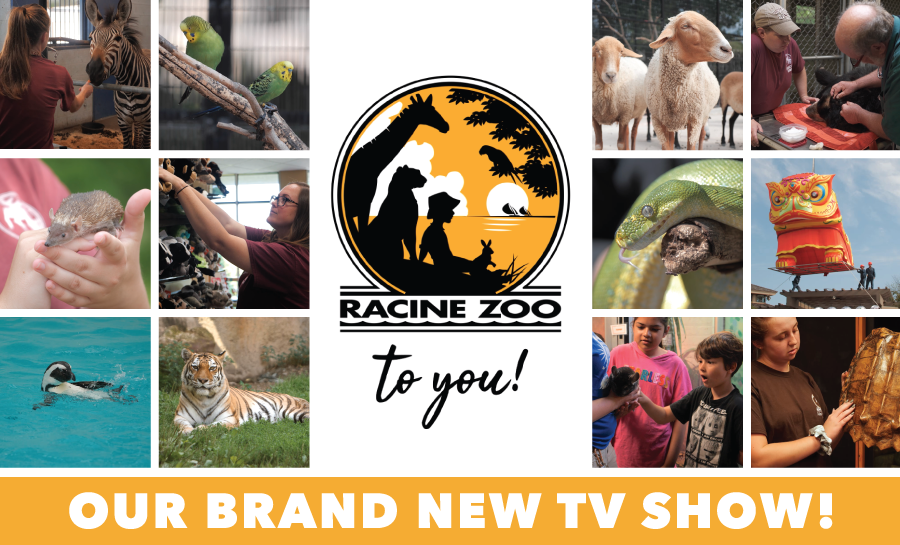 PRESS RELEASE: AUGUST 1, 2019
The Racine Zoo is excited to announce that the Zoo will be the main attraction in a 13-episode television show that will debut in early August on WMLW. Called "Racine Zoo to You," this half-hour show will take viewers on a detailed inside look at what makes the Racine Zoo, its staff, and its animal population special.
"What an exciting project this has been for the Racine Zoo. Showcasing this amazing place, the animals, the staff and our programs will really give everyone a better understanding of our Zoo," Beth Heidorn, Executive Director of the Racine Zoo said.
The show is being made possible through the David L. and Kathleen A. Eberle Family Foundation. "Our family has been supporters of the Racine Zoo for over 40 years. So now, we're very pleased to assist in sharing the exciting Zoo news with all of Southeast Wisconsin," David Eberle said.
"Racine Zoo to You" kicks off on Saturday, Aug. 10, and will air on WMLW-The M from 6:30 a.m. to 7 a.m. each week for 13 weeks. During the first week, you'll get a behind-the-scenes look at the Zoo's Land of the Giants exhibit, which features Eastern Black Rhinos, Hartmann's Mountain Zebras and the popular Masai Giraffes. Later in the show, you'll get to learn how trainers employ positive reinforcement strategies to train the zoo's animal population to positively interact with zookeepers during the course of routine care.
Agustin Hernandez, Filmmaker at ALTVRA, a Racine-based media production company, said working on "Racine Zoo to You" has been an enjoyable venture. "My experience with Racine Zoo and staff has been great! It is so interesting to see the different programs and events that the zoo has to offer. Being behind-the-scenes has been very enjoyable. I have learned so many new facts about the animals," he said. "The Zoo staff has been amazing to work with. They are so friendly and helpful. I am looking forward to future projects."
"Racine Zoo to You" will cover a wide range of topics over subsequent weeks, including the Zoo's carnivore populations, penguins, primates and birds. The show will delve into the importance of Zoo education. "Racine Zoo to You" will also preview the 2019 Lantern Festival, giving viewers a firsthand look at one of the area's most-anticipated family-friendly fall festivals.
Produced by Altvra Company, a Racine-based creative company.
Introduction to the show created by Driven Marketing Solutions.