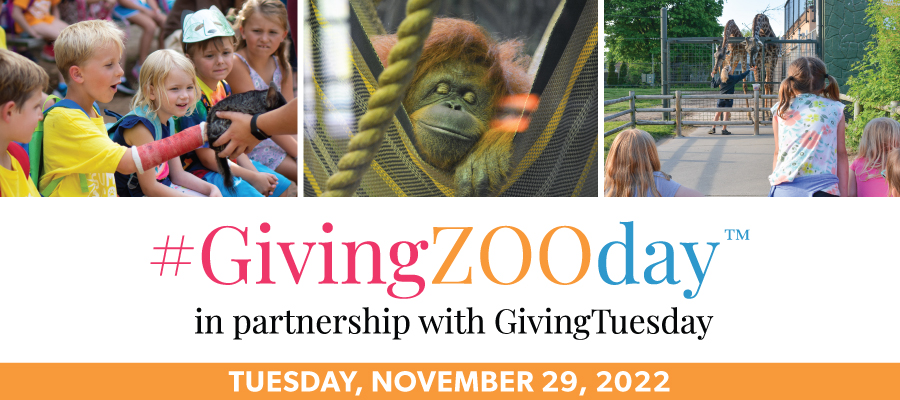 THANK YOU! #GivingZOOday was a success! It is because of generous friends like you that we are able to provide more than 300 animals with exceptional care while also providing our visitors with a unique and wholesome conservation education experience and the opportunity to develop a deep appreciation and respect for our natural world. Your gift had TWICE THE IMPACT with every dollar up to $5k matched by the RUUD Family Foundation. Thank you to this wonderful Zoo patron.
For those who missed it and are interested in supporting the Zoo, we will be accepting donations toward #GivingZOOday through Sunday, December 4.
---
#GivingZOOday, in partnership with #GivingTuesday, is about the impact zoos and aquariums have on their communities by engaging visitors to be stewards of the environment and saving species from extinction. It's also about how these institutions give back by mentoring their staff and volunteers to support a wide range of causes. This year, we would like to ask you to reach into your hearts and help the Racine Zoo make a difference.
Highlights of the Specialized Care We Provide
Our Animal Care Department provides essential daily and veterinary care to over 300 animals and 75 different species that call Racine Zoo home. Just like you, our animals need to eat and have dentist visits! Each animal requires unique care and enrichment as well as proactive care to live long healthy lives. As a nonprofit, the price tag is steep for the special care our animals require.
Penguin Acupuncture
Did you know animals can receive acupuncture? Working with our vet, we have started doing acupuncture with our animals for a variety of medical needs. This revolutionary technique has helped with meerkat leg issues to arthritis and spinal issues with penguins. Yellow, one of our senior penguins at 31 years old, went from limping around to walking with confidence in just minutes!
Orangutan Voluntary Dental X-Rays
During a routine check, Primary Primate Keeper, Crystal, saw something odd in Max the orangutan's mouth. After consulting our vet, it was decided x-rays were needed. Since anesthetic procedures on orangutans are stressful, the Racine Zoo team worked together to create a custom panel to allow for voluntary x-rays to find out what was going on with Max. Turns out he had an extra tooth! It wasn't a health issue, but an interesting piece of research to share with the zoo community. This type of care is critical for making sure our animals are happy and healthy!
Giraffe Laser Treatment
As a senior at 17 years old, Mac the Masai giraffe starting slowing down and spending less time laying down. At 16 feet tall and over 2,600 pounds, it a takes a lot of work for Mac to get up and it can cause him pain in his joints. Voluntary x-rays showed Mac had osteoarthritis in his legs. To help, we've given him vitamin supplements to pain medications to voluntary injections. Then, we tried groundbreaking laser treatments with our vet. Now Mac is moving around more with ease.
Making an Impact Through Conservation Education
Conservation education is core to our mission as a nonprofit organization. We offer a huge variety of programs for all ages and backgrounds including preschool, summer camp, scout programs, field trips, senior programs, and school programs year round. We believe strongly in helping to improve the lives of youth through education, especially those in extremely low-income families, as well as promoting a connection to nature and a sense of place. Studies have shown that incorporating live animal programs from zoos and aquariums has significant, measurable impacts on children's learning and retention of information. Every year, we reach over 90,000 people and none of these programs would be possible without your help!
​
Our goal for #GivingZOOday is to raise much needed funds for the Zoo. Will you help us make this possible? Show your love and support through a donation. A gift of any size makes a difference.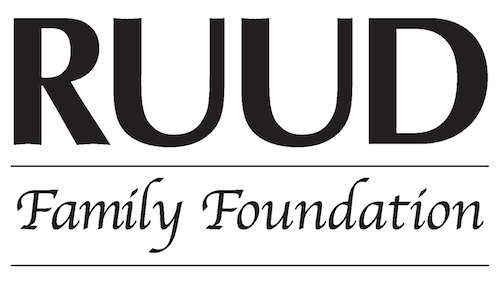 Your donation will have TWICE THE IMPACT! Every dollar up to $5,000 will be matched by the RUUD Family Foundation. Thank you to this wonderful Zoo patron.
Donate online below or mail your donation check to the Racine Zoo at 200 Goold Street, Racine, WI 53402. All donations are tax deductible in accordance with the IRS Tax Code.

A sincerest thank you for your support from all of the animals and staff at the Racine Zoo.
---
How far will your donation go?
In addition to specialized veterinary care, our animals need to eat! Our keepers craft specific diets for each animal to keep them healthy and strong. However, since the animals require food every day just like you, the cost adds up quickly!