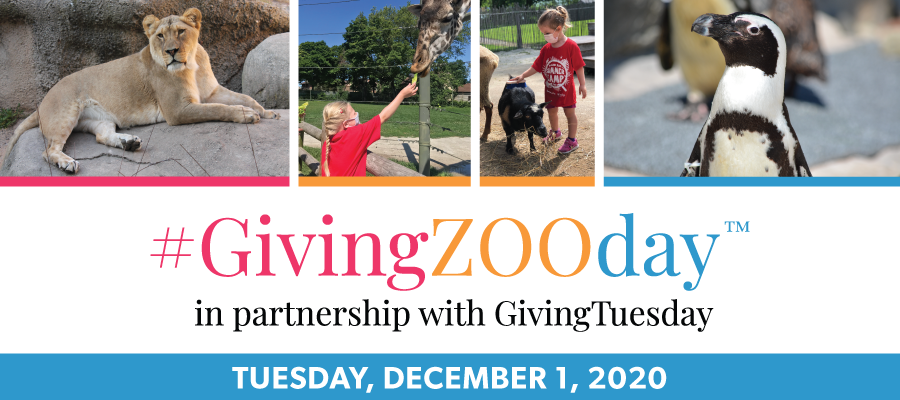 THANK YOU!
We'd like to thank our community from the bottom of our hearts for the incredible support you've provided us for #GivingZOOday. It's because of wonderful people like you we are able to provide safe, family-friendly experiences through events, education programs, and community outreach. With your generous help, we can continue to provide our beloved animals with the essential daily and veterinary care they need. We are truly thankful for all of our supporters. Without you, there is no Zoo!
For those who missed it, we will be accepting donations toward our #GivingZOOday fundraiser through Sunday, December 6, 2020.
---
#GivingZOOday, in partnership with #GivingTuesday, is about the impact zoos and aquariums have on their communities by engaging visitors to be stewards of the environment and saving species from extinction. It's also about how these institutions give back by mentoring their staff and volunteers to support a wide range of causes. This year, we would like to ask you to reach out your hearts and help the Racine Zoo make a difference. Because of our generous sponsors, this year your tax-deductible donation can have 4 times the impact!
Although the Racine Zoo has taken a hit during the COVID-19 outbreak, it has not stopped functioning. Our Animal Care Department provides essential daily and veterinary care to over 300 animals and 75 different species that call Racine Zoo home. Just like you, our animals need to eat and have dentist visits! Each animal requires unique care and enrichment as well as proactive care to live long healthy lives. In the past few months, we've lost our Andean bear, Nora, to cancer and patriarch African lion, Aslan, to a lifelong leg injury. As a nonprofit, the price tag is steep for the special care our animals require.
In addition to animal care, we strive to educate and conserve wildlife and wild places. Our Conservation Education Department delivers children of all ages and backgrounds a comprehensive education on wildlife conservation through engaging and inspiring animal interactions and activities. The Zoo is also involved in over 30 SSP programs (Species Survival Plans) for Masai giraffes, Amur tigers, and emperor tamarins to name a few. Donors play a crucial role to keep our 97-year-old, AZA-accredited zoo running. Through the generous support of the community, our zoo can continue to create new experiences and memories for guests of all ages for years to come.
Our goal for #GivingZOOday is to raise much needed funds for the Zoo. Will you help us make this possible? Show your love and support through a donation. A gift of any size makes a difference.
Your donation went 4 TIMES AS FAR! Every donated dollar up to $5,000 was matched by the RUUD Family Foundation, O&H Danish Bakery, and Educators Credit Union! Thank you to all three of these wonderful Zoo patrons.
Donate online below or mail your donation check to the Racine Zoo at 200 Goold Street, Racine, WI 53402. All donations are tax deductible in accordance with the IRS Tax Code.

A sincerest thank you for your consideration from all the animals and staff at the Racine Zoo during these uncertain times. Your incredible kindness will go a long way.
---
How will your donation directly help our animals?




Animal Diets
Just like you, our animals need to eat! Our keepers work hard to prepare specific diets for every animal to make sure they're getting the proper nutrition. For a nonprofit, the price tag is steep to keep our zoo family fed!

Veterinary Care
Our animals require proactive care, such as checkups and dental care. We also provide more intense care for those animals with greater needs. We recently lost Nora, our Andean bear, to an aggressive cancer in her mouth. With a life expectancy of only 20 years in the wild, Nora far exceeded expectations, living to 28 years of age. It was also with great sorrow that we shared the passing of Aslan, our patriarch African lion this past summer. He had a lifelong leg injury that despite a variety of treatments, decreased his mobility and increased the risk of a potentially painful injury. They were able to live as long as they did and receive special care because of the tireless work of our Animal Care Department. Both beloved animals brought joy to every zookeeper who worked with them and made lifelong connections with guests. Your gift can help us continue our vital care to over 300 animals and 75 different species that call Racine Zoo home.
How will your donation support conservation education?

Conservation Education Programs
We believe strongly in helping to improve the lives of youth through education, especially those in extremely low-income families, as well as promoting a connection to nature and a sense of place. Through our various programs, we have been able to bring enriching and educational programs to build a connection between families and their environment. Studies have shown that incorporating live animal programs from zoos and aquariums has significant, measurable impacts on children's learning and retention of information. Your gift helps us continue our creative efforts of educating and bringing new experiences to our community.