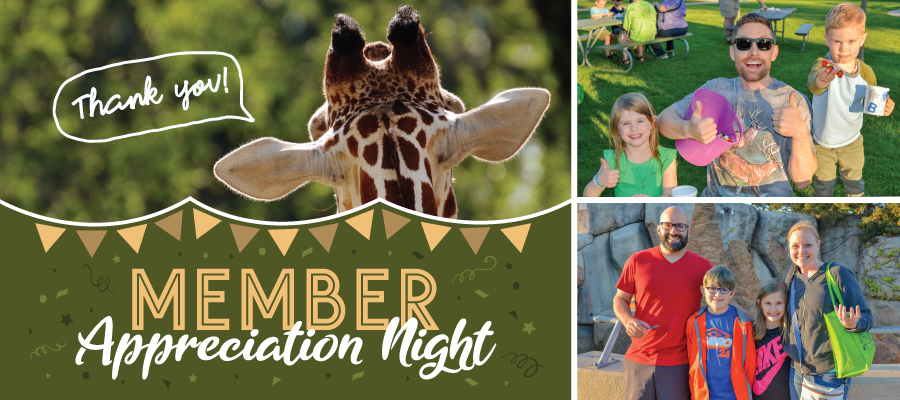 Thursday, May 26, 2022 | 5PM – 8PM
Join us for a celebration to give our sincere thanks to our wonderful and dedicated Racine Zoo members!
This fun night will include:
A look at what is new at the Zoo
Delicious food and refreshing beverages
Crafts, games, and activities for the kids
Special animal chats with our keepers
Train rides
Musical entertainment by Nanny Nikki
Additional activities:
Barnyard Safari open (closes at 7:45pm)
Norco Aviary open - $1 per person seed sticks (closes at 7:45pm)

Music Performance in the Amphitheater:
Get ready to sing and dance! Enjoy 45-minute live performances by Nanny Nikki at 5:30PM and 6:30PM. Nanny Nikki is a Grammy-nominated artist who loves to bring life to classic children's songs as well as her original music. Join her for a high energy, interactive, musical show including sing-along songs, dancing, puppets and more!

Animal Chat Schedule with Racine Zoo's Keepers:
Learn about our animals and ask questions directly to their keepers during these 30-minute chats all night long!
5:00pm – 5:30pm – Meet an Alligator - Bridge near Zoo entrance
5:30pm – 6pm – Ask a Keeper: 'Roos – Walkabout Creek
6pm – 6:30pm – Ask a Keeper: Giraffes – Giraffe Exhibit
6:30pm – 7pm – Mammal Madness Encounter – Vanishing Kingdom Building
7pm – 7:30pm – Ask a Keeper: Eagle – Eagle Exhibit
---
RSVP
Must RSVP by MONDAY, MAY 16, 2022
Must be a member in good standing.
**Please be sure to include member name and contact information, type of membership, and how many adults and children are attending (including 2 and younger)
Email: rsvp@racinezoo.org
or
Call: Membership Manager, Joanne Dean, at 262.636.9274.
Please Note:
Event is for MEMBERS ONLY - NO EXCEPTIONS
Pre-registration required!
Your name will be put on a list at the entrance of the event. Please bring your ID.
---
Not a Zoo member? Learn about our membership options. Join today!
Businesses/organizations welcome! Sign up here for a Business Booth! Great for advertising and connecting with the community!