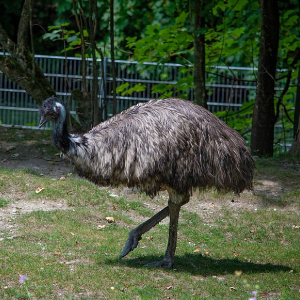 Class:

Aves

Order:

Struthionformes

Family:

Dromaiidae

Genus:

Dromaius

Species:

novaehollandiae

Lifespan:

10 – 20 years in wild
Up to 35 years under human care

Gestation:

Incubates eggs for about 8 weeks
Approximately 9.8 in. tall at birth

Number of Young:

Lays 5 – 15 eggs per clutch
Up to 3 clutches per season

Size:

4.9 – 6.2 ft

Weight:

66 – 121 lb

Range:

Common throughout most of mainland Australia

Habitat:

Grassy plains and dry open forests

Diet:

Fruits, flowers, insects, seeds and green vegetation

Description:

Brown in color. After molting, new feathers may appear nearly black, fading to pale brown with age. Bases of feathers are white. Skin on head and neck often free of feathers has a bluish tinge. Intensity of this color varies according to season of year, changes in surroundings, and behavior of nearby birds.
Fun Facts:
Is the second largest living bird in the world (next to the ostrich).

The emu is flightless with wings only 1/10th the length of its body.