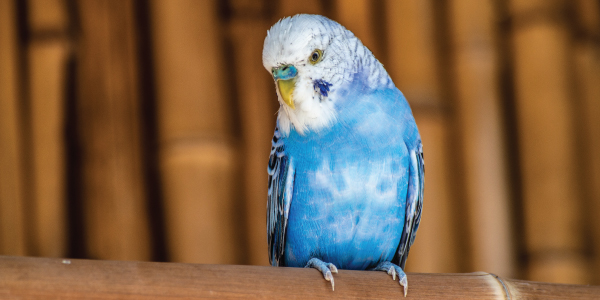 Class:

Aves

Order:

Psittaciformes

Family:

Psittacidae

Genus:

Melopsittacus

Species:

undulatus

Lifespan:

21 years under human care

Avg. time to Hatching:

18 – 21 days

Number of Eggs:

4 – 6 eggs

Size:

Length of 7 ft
Wingspan of 10 – 14 in.

Weight:

1.1 – 1.4 oz

Reproduction:

Budgies are monogomous. Partners show affection to each other by preening and feeding one another.

Range:

Dry, inland areas of Australia

Habitat:

Occupy a range of semi-arid and sub-humid habitats mainly in the interior of Australia. They sometimes can be found in dry grasslands of the southeast.

Diet:

Consists of insects, grains and seeds

Description:

Common budgies' bodies are light green. Their mantles, which consist of their backs and wings, typically have yellow undulations and black markings.Adult budgies have yellow faces. Small purple patches are also found on their cheeks. Until they get their adult plumage, immature budgies have black-colored stripes from their foreheads to their ceres or noses.
Fun Facts:
Budgerigars make their nest in pre-existing cavities that are available in fence posts, logs, and Eucalyptus trees.

The female chooses the nest site and incubates while the male spends most of the time foraging and feeding

Their activity, like most birds, begins just before sunrise with preening, singing, and movement within trees.

Mating pairs show affection by preening each other's feathers.