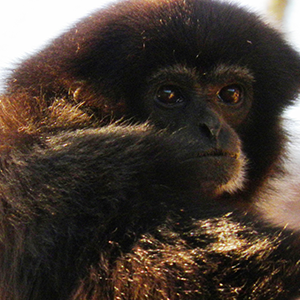 Class:

Mammalia

Order:

Primate

Family:

Hylobatidae

Genus:

Hylobates

Species:

lar

Life span:

In the wild, 25 years
Up to 44 years under human care

Gestation:

7 months

Number of young at birth:

1

Age of maturity:

8 years

Size:

18 – 25 in. long

Weight:

10 – 13 lb

Size at birth:

A little less than 1 lb

Habitat:
Rainforests, tall trees
Range:
South East Asia
Diet:
Fruits, leaves, insects and flowers. Occasionally birds and eggs
Fun Facts:
Expert at traveling in the trees

Arms are longer than its legs, which allows the gibbon to cover a great distance, nearly 10 feet, with each pendulum swing of its body.

Males can be either black or blonde

Skin is black and the fur around its face, hands and feet are white. They are uniformly colored, but colors may vary from cream to red, brown or almost black.

Originally from tropical and subtropical forests of the Malay Peninsula and Indonesia

Only primates that habitually walk upright on their hind legs. They walk with arms held high for balance.

Live in small groups of a pair with up to four offspring

Gibbons are considered apes and not monkeys. Apes do not have tails.