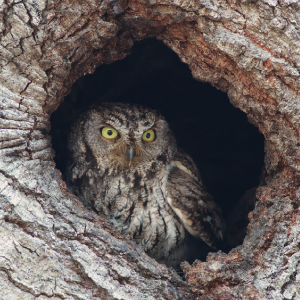 Class:

Aves

Order:

Strigiformes

Family:

Strigidae

Genus:

Otus

Species:

kennicottii

Lifespan:

About 13 years in the wild
About 19 years under human care

Reproduction:

Females lay 2 to 7 eggs per season in March or April. Hatching occurs within 26 to 34 days.

Size:

7.48 – 10 in. long
Wingspan 6.63 – 6.87 in. wide

Weight:

Approximately 6 oz

Range:

Western North America, northwestern Mexico, and coastal regions of the Pacific Northwest

Habitat:

Inhabit low elevation riparian and deciduous oak woodland communities. Also inhabit streamside groves, parks, and gardens.

Diet:

Commonly eat small mammals, birds, worms, insects, and fish

Description:

A small owl with feathered ear tufts. Plumage is generally brown or gray. The face is usually pale with a dark lateral border, underparts are streaked and barred. They have yellow eyes and dark bills.
Fun Facts:
Prior to breeding, courtship feeding is common with the male presenting food to the female. The male also demonstrates elaborate courtship displays including bowing, bill snapping, and hopping.

Western screech owls prefer to nest in tree cavities or nest boxes.

As "sit and wait" predators, Western screech owls leave their roosts to forage just before sunset.
---
Photo by Shravans14 [CC BY-SA 4.0 (https://creativecommons.org/licenses/by-sa/4.0)], from Wikimedia Commons. Photo has been cropped.