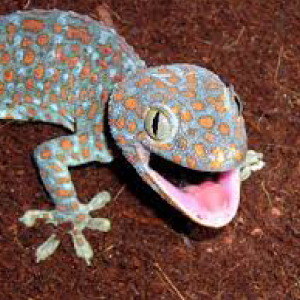 Class:

Reptilia

Order:

Squamata

Family:

Gekkonidae

Genus:

Gekko

Species:

gecko

Life span:

7 – 10 years

Egg Gestation:

Females lay 2 eggs in several clutches.
Eggs hatch 2 to 6 months after

Number of young at birth:

2

Age of maturity:

18 – 24 months

Size:

7 –12 in.

Weight:

5 – 14 oz

Size at birth:

2 – 3 in.

Habitat:

Ranges from deserts to the rainforests. Geckos have adapted a great variety of habitats.

Range:

Native to south and south-eastern Asia including Malaysia and the Philippines. Can also be found in the Indonesian archipelago. Has been introduced to Florida, Texas, Hawaii, some Caribbean islands and Belize.

Diet:
Insects and a variety of small vertebrates
Fun Facts:
Males are more colorful than females
Have large eyes covered by transparent scales that act as protective lenses
Geckos are quite vocal making sounds that range from quiet chirping to loud barking. Only the male gives voice, the female is mute except for a defensive hissing sound.
Gecko's eyes only see in black and white. Because they are nocturnal they have no need to distinguish colors.