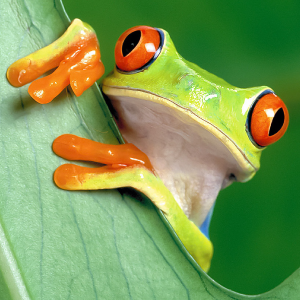 Class:

Amphibia

Order:

Anura

Family:

Hylidae

Genus:

Agalychnis

Species:

callidryas

Size:

Males are between 1.6 – 2.5 in. long
Females are between 2.2 – 2.9 in. long

Life Span:

5 years

Reproduction:

Clutches of 11 – 78 eggs are depostied onto a leaf over water and tadpoles drop into water below

Range:

Found in tropical lowlands from southern Mexico, throughout Central America, and in northern South America

Habitat:

Lowland rainforest areas close to rivers and hills. Found in Central and South America

Diet:

Insects, worms

Description:

Slender, long-legged treefrog with a neon-green dorsum and distinctive bright red iris
Fun Facts:
By day, red-eyed tree frogs will conceal their brightly colored flanks with their limbs and close their eyes to sleep. This posture helps camouflage them against leaves and also reduce water loss

Red-eyed tree frogs are not poisonous
---
Photo by Ron Cogswell (https://www.flickr.com/photos/22711505@N05/38420293461). Photo has been cropped.