SKU: AC:RomanStreet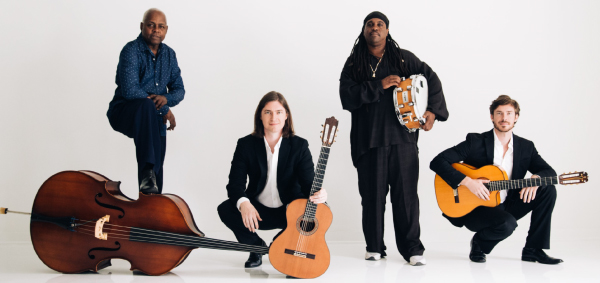 Roman Street
Wednesday, July 13, 2022 | Doors Open: 5:30PM, Show Starts: 7PM
Brothers Noah and Josh Thompson put their guitars together to form Roman Street. Since the college years, this brotherly jam session has developed into a Billboard/iTunes charting band who many have dubbed 'the next generation' of Jazz Fusion. Roman Street, named for an old roman street in the Alps where they studied guitar, is an internationally trained instrumental band specializing in improvisational fusion of Classical, Gypsy and Contemporary Jazz, Latin, and Nuevo Flamenco. A departure from the over-produced music that is out there today, they keep it simple—the beautifully organic sound of acoustic instruments played by talented people who love what they are doing. Whether performing as a guitar duo, or with a backing band, Roman Street astounds with music that appeals to fans of many genres.
Roman Street has opened concerts/festivals for international sensations George Benson, The Gipsy Kings, Ziggy Marley, Boney James, Dave Koz, The Rippingtons, Earl Klugh, Jesse Cook, Four Play, Maroon 5, Michael McDonald, Bela Fleck and the Preservation Hall Jazz Band.
Artists' Website: romanstreet.com
---
Want to enjoy all four Animal Crackers concerts? Buy Season Tickets!
Businesses/Organizations Welcome! Sign up for a Business Booth for a great promotional opportunity!
---