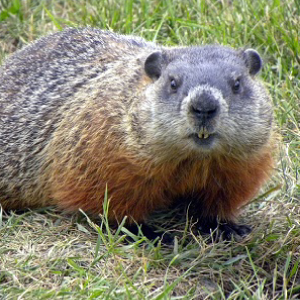 Class:

Mammalia

Order:

Rodentia

Family:

Sciuridae

Genus:

Marmota

Species:

M. monax

Lifespan:

In the wild, about 2 – 6 years
10 years under human care

Gestation:

32 days

Number of Young:

A single litter between 2 – 6 (usually 4)

Size:

Can grow over 2ft in height

Weight:

10 lb

Reproduction:

Males will emerge from hibernation earlier in the spring than females to begin to establish territories, and males will often mate with multiple females in a breeding season. After a one month gestation period, female Woodchucks will usually give birth to between three and five pups. These pups will spend about two months with their mother before heading out on their own and will become sexually mature at one year old.

Range:

Eastern and Central Alaska, British Columbia, Southern Canada, United States

Habitat:

Perfer open farmland and surrounding wooded or brushy areas adjacent to open land. Burrows are commonly located in fields or pastures.

Diet: Wild

Variety of vegetables, grasses, legumes, beans and clovers.

Diet: Zoo

Fruits, vegetables, greens, and specially formulated biscuits.

Description:

As a human-reared species, domestic pigs can be found in a wide variety of colors and sizes, although they all have the characteristic large ears, elongated rostrum, and rounded nose.
Facts:
Woodchucks love to burrow!

Great at chewing and digging, they also have rounded ears that can cover the ear canal to protect their ears from dirt while digging.

While hibernating, a woodchuck's body temperature can drop from about 99 degrees to as low as 37.

The heart rate of a hibernating woodchuck slows from about 80 beats per minute to about 5.