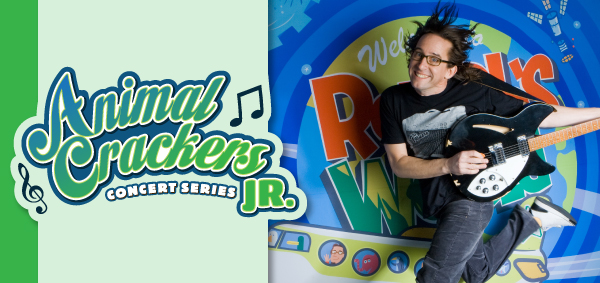 Ralph's World
Friday, July 23, 2021 | 7PM
Ralph's World is the mega-fun musical planet where kids rock rock rock and dance dance dance to their own and their parents' delight. It's the creation of Ralph Covert: indie rocker, songwriter, playwright, and children's book author. He's taken the same high-energy and super-melodic sense that he developed for his touring pop-rock band to kid's music. His McCartneyesque style (both musically and his sense of charm) has won him hundreds of thousands of three-feet-and-under fans and their parents.

Full band Ralph's World concerts are as fun for parents as they are for kids -- or is it the other way around? Either way, they feature his top notch live band of Tommy O'Brien and Brian Sheridan of The Bad Examples, and long time Ralph's World drummer Bean Weng. The band leads the audience through a rocking set of dancing, singing, and good old fashioned fun.
His songwriting and vocals have been used in several independent films here and in Europe, most notably the acclaimed Dutch feature De Jurk ("The Dress") for which he received Holland's equivalent of an Oscar ™ for his original song "The Black Rose of Texas." His Ralph's World tune "Just Like The Monkeys" was used for a pre-eminent retailer's back-to-school campaign and he created a song, "The Box Of Fun," for Kellogg's. In 2010 he revamped the Pull-Ups song "Do The Potty Dance" and seemingly made it into a hit with a television commercial sung in both English and Spanish.
Artist's Website: ralphsworld.com
---
Businesses/Organizations Welcome! Sign up for a Business Booth for a great promotional opportunity!
---
Buy Tickets (online only)
Print your tickets at home or we can scan your tickets directly off your smartphone at the entrance!