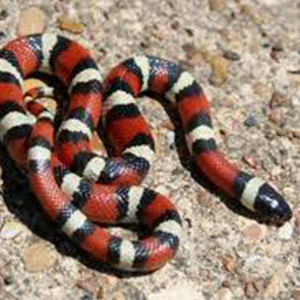 Class:

Reptilia

Order:

Squamata

Family:

Colubridae

Genus:

Lampropeltis

Species:

triangulum andesiana

Life span:

Can be more than 15 years under human care

Egg Gestation:

Females lay 12 – 20 eggs that hatch after about 2 months

Number of young at birth:

12 – 20

Size:

Up to 6 ft long

Range:
Andes Mountain Range in Columbia
Live in areas from about 750 to 9,000 feet in elevation
Habitat:
Forest under rotting logs and woodland debris
Fun Facts:
Because they live at high elevations, they can withstand lower temperatures that other snakes.

Eats small rodents, birds, amphibians, lizards and other snakes, including venomous species.

Mimics the Coral Snake in coloration which is a venomous cobra. The Milksnake, however, is not venomous.

Vibrates its tail to sound like a rattlesnake in order to scare away predators.