​
​In case you missed it, check out the stream below!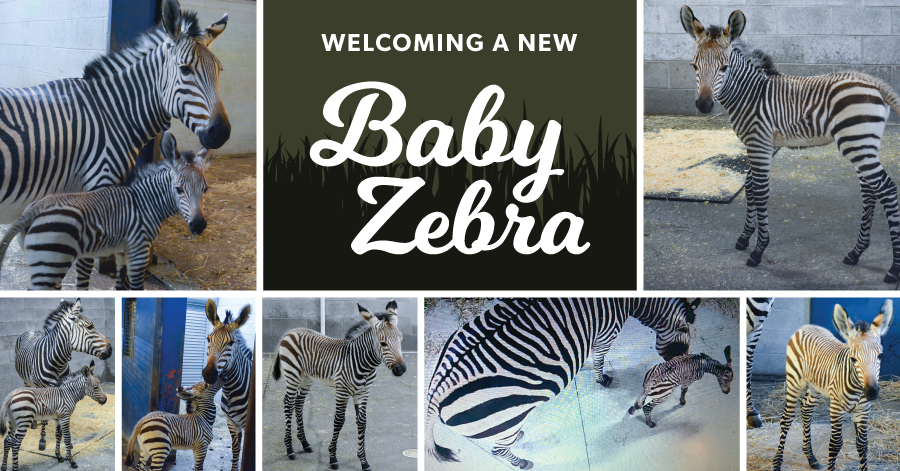 It's a Boy!
We are excited to announce the newest member of our Zoo family—a newborn Hartmann's mountain zebra! Born at 7:42pm on December 24, 2020, this Christmas baby is a joyful addition to the Racine Zoo.
As the first Hartmann's mountain zebra born at the Zoo, the foal is an important addition to the population. Born to mother Promise and father Obi, the new foal was born as a recommendation of the Hartmann's mountain zebra Species Survival Plan, and zoo staff were in close communication with staff at both San Diego Zoo and Disney's Animal Kingdom throughout Promise's pregnancy and the foal's first few weeks. With fewer than 100 Hartmann's mountain zebras in the US and listed as vulnerable in their native habitats in southern Africa, this foal is an important contribution to global conservation of this species.
"We are so excited for our first Hartmann's mountain zebra foal, and cannot wait to introduce him to the public," commented Aszya Summers, Curator of Animal Care and Conservation Education at the Racine Zoo. "We are grateful for a happy, healthy zebra family. This successful birth is a testament to the hard work of the entire team. From superb training that allowed for voluntary prenatal care through pregnancy, to making our zebra stalls baby-proofed and ready, to staff watching cameras through the night as our birth window drew closer, it took hard work from departments across the zoo to make this happen. I could not be more proud of the entire Zoo team."
In order to ensure a safe and healthy birth, keepers watched mother Promise around the clock for weeks via night-vision cameras, recording her eating, sleeping, and all behaviors leading to the birth of the new foal. The Racine Zoo is happy to report a largely uneventful pregnancy, with the baby nursing and walking within hours of birth, and is excited to introduce the public to their healthy baby boy! While mom and baby will be off exhibit to bond until the spring, keep an eye on zoo social media for regular updates on the foal's progress!
Our new foal plops down on the ground as Mom watches nearby. It's exhausting being a baby!
This boy has a case of the baby zoomies! A small slip doesn't stop this excited little one. Mom stands by and wonders where he gets all his energy!

While things are going smoothly for the Racine Zoo's zebra family, there is one thing missing—a name! Bid on naming the baby in our silent auction. The auction is now closed. Thank you to everyone who showed their support through a bid, donation, or simply watching our livestream. We love you all!

For a limited time, directly support the care of the baby zebra with a purchase of a shirt or sweatshirt! Youth and adult sizes available in multiple colors. We thank you for your kind contribution! Must order before January 24, 2021! All mailed orders will be mailed the week of 2/8/21. All pickup orders will be available at the Racine Zoo the week of 2/8/21. You will be contacted about specific pickup times.


Follow us on Facebook, Twitter, and Instagram for more regular updates on the baby!