SKU: AC:CTA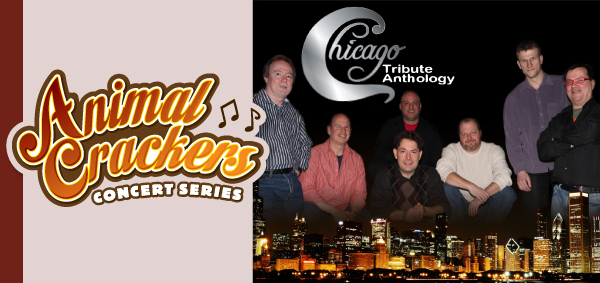 Chicago Tribute Anthology
Wednesday, August 4, 2021 | 7PM
BACK BY POPULAR DEMAND! Chicago Tribute Anthology is a 7-piece horn band dedicated to performing the music of one of the most popular and enduring bands of all time: Chicago. The unique sound that was and is Chicago defined a generation and changed the sound of popular music forever. See them live and experience their concert set of Chicago's greatest hits!
Their personnel are all veterans of the Chicago-area musical scene and have performed with notable national and local artists such as Ray Charles, Stevie Wonder, Mel Tormé, Tony Bennett, the Hat Guys, Flapjacks, Katie Sullivan, Legacy, the Four Man Acoustical Band, Farewell, Deja Groove, Bill Russo and the Chicago Jazz Ensemble, Take 5, The Dana Legg Big Band, Woody Herman Orchestra, Fanfare, the Fox Valley Concert Band, and many other of the area's finest musicians and ensembles.
Artists' Website: chicagotribute.net
---
Want to enjoy all four Animal Crackers concerts? Buy Season Tickets!
Businesses/Organizations Welcome! Sign up for a Business Booth for a great promotional opportunity!
---
Pre-purchased Tickets
In regards to those of you who purchased tickets in 2019 or online after that for holiday gifts or for yourself, those TICKETS ARE GOOD FOR 2021!

For the concert on August 4, you will use the maroon/red colored ticket that says "Wednesday, August 5, 2020"
---