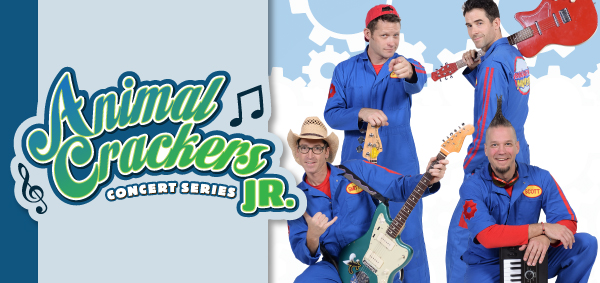 Imagination Movers
Friday, August 20, 2021 | 7PM
The Imagination Movers are a rock band for families and the Emmy-winning stars of a hit TV series seen worldwide on the Disney Junior channel. The Movers began fifteen years ago when four friends from New Orleans brainstormed a show that would feature quality rock music and positive male role models while inspiring teamwork and creativity. The New York Times says the Movers are "prized by many parents for non-condescending lyrics and music that evokes the Beastie Boys or Red Hot Chili Peppers." Parenting magazine praised the band's "dash of rebellion" and songs that are "fresh and treacle-free."
The Movers have written more than 200 songs. Many have been featured on commercials and TV shows, including "The Ellen DeGeneres Show," "Wipeout" and "The Today Show." The Movers play real, live rock music. No pre-recorded tracks. Performances feature flying toilet paper, vortex trash cans, ginormous balloons, broken drumsticks and lots of confetti. The Movers have performed at the White House for two different presidents and are active roster members for Armed Forces Entertainment (AFE) and Morale, Welfare and Recreation (MWR). The Movers are National Buddy Walk Partners of the National Down Syndrome Society (NDSS).
The Movers' tenth studio album "10-4" bowed in December 2018, reaching number 2 on the Children's Music Charts with these songs: "Socks, Is That Wrong", and "Butterfly Wings" (feat. Lisa Loeb) in heavy rotation on SiriusXM Kids Place Live, channel 78.
Artists' Website: imaginationmovers.com
---
Businesses/Organizations Welcome! Sign up for a Business Booth for a great promotional opportunity!
---
Buy Tickets (online only)
Print your tickets at home or we can scan your tickets directly off your smartphone at the entrance!
​