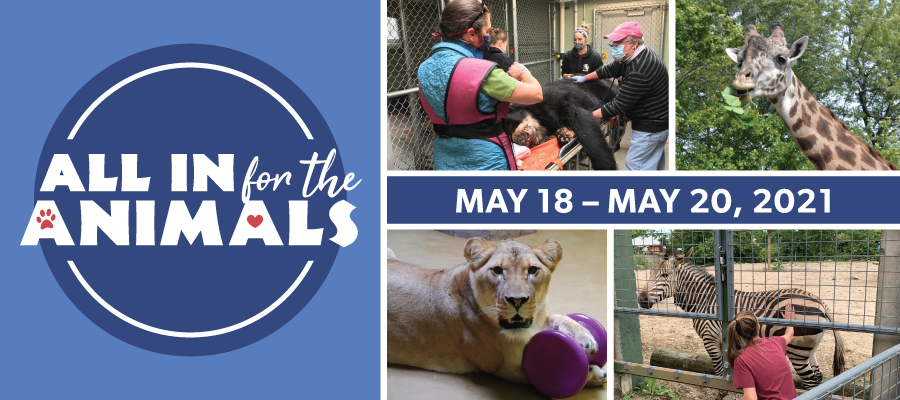 All In For The Animals was a SUCCESS! We'd like to thank our community from the bottom of our hearts for the incredible support you've provided these past few days. It's because of wonderful people like you we are able to provide top-notch care to the animals that make your trip to the Zoo so special. We are truly thankful for all of our supporters. Without you, there is no Zoo!
For those who missed it, we will be accepting donations toward our All In For The Animals fundraiser through Monday, May 31, 2021. Thank you so much!

---
The Racine Zoo Needs You!
From Tuesday, May 18 to Thursday, May 20, we would like to ask you to reach into your hearts and help the Racine Zoo make a difference. The animals that make your trip to the Zoo so memorable require vital care each and every day. Our Animal Care Department provides essential daily and veterinary care to over 300 animals and 75 different species that call Racine Zoo home. Just like you, our animals need to eat and have dentist visits! Each animal requires unique care and enrichment as well as proactive care to live long, healthy lives. In the past few months, we've welcomed many new faces into the world, such as our zebra foal, tamarin twins, and penguin chicks. However, we've also had to deal with our Andean bear, Diamond, being diagnosed with cancer. As a nonprofit, the price tag is steep for the special care our animals require.
Donors play a crucial role to keep our 98-year-old, AZA-accredited zoo running. Through the generous support of the community, Racine Zoo can continue to provide our beloved animals with the care they need. Our mission is to foster an enlightening and affordable wildlife experience that improves the bond between people and nature for years to come.
Our goal for All In For The Animals is to raise much needed funds for the Zoo. Will you help us make this possible? Show your love and support through a donation. A gift of any size makes a difference.

Because of our sponsors, this year your tax-deductible donation can have 4 times the impact! Every donated dollar up to $5,000 will be matched by the RUUD Family Foundation, Educators Credit Union, and McDonald's of North Racine! Thank you to all three of these wonderful Zoo patrons.
Donate online below or mail your donation check to the Racine Zoo at 200 Goold Street, Racine, WI 53402. All donations are tax deductible in accordance with the IRS Tax Code.

A sincerest thank you for your consideration from all the animals and staff at the Racine Zoo. Your incredible kindness will go a long way.
---
How will your donation directly help our animals?
Essential Veterinary Care

Diamond, our beloved Andean Bear who recently turned 30, was diagnosed a few months ago with skin cancer. Since that time, we have consulted on Diamond's case with experts around the country to ensure he receives the best possible care. While Andean bears typically only reach about 20 years in the wild, superb care has allowed Diamond to far exceed this significantly, and his prognosis is currently very positive! From a process of "skin mapping" to map out cancerous areas to laser therapy and regular application of a medicated silver cream, Diamond's treatment is going well. However, it has also been a costly endeavor. Your support will help us treat our animals, like Diamond, with the special care they need to live long, happy lives.
Voluntary Husbandry Training

Every day, our keepers work with our animals on important voluntary husbandry training. This strengthens the bond between keeper and animal, making the process smoother when veterinary care or other daily care is necessary. Through hard work, we have successfully been able to perform voluntary hoof trims on our giraffes and zebras. With the training panels added to our zebra exhibit within the last year, we have been able to improve our husbandry training capabilities and work on training our zebras for voluntary injections and blood draws. We are also the only zoo in the U.S. performing ultrasounds on emperor tamarins. Our mother tamarins have participated in voluntary fetal ultrasounds, which allowed staff to monitor pregnancy. Because of this, Racine Zoo has started the first database of fetal emperor tamarin measurements! Through your support, we can continue these breakthroughs in voluntary training and continue pushing the limits of animal care.
Daily Care
With your help, we can keep all of these animals fed! Our keepers craft specific diets for each animal to keep them healthy and strong. However, since the animals need to eat every day just like you, the cost adds up quickly!